ENTERTAINMENT WITHOUT THE HASSLE
PROFESSIONAL SERVICE WITH QUALITY AND CUSTOMER SATISFACTION
Advanced Entertainment
DJ Service
Congratulations on your engagement and upcoming wedding!
At Advanced Entertainment DJ Service, we feel it is essential for couples to be fully informed before making a decision about entertainment for one of the most important days of their lives. After all, much of the success of your wedding day lies in the capable hands of a professional WEDDING DJ.
Over 18 years of experience in wedding entertainment.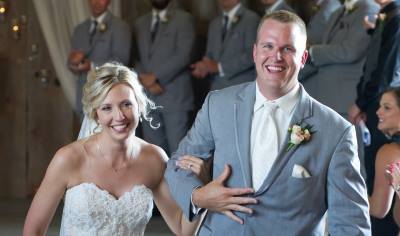 Take a look at some of our pictures and videos!
Come check out our new fun filled added feature.
"You could tell you enjoy you job, while your doing it! The way you paid attention to all the guests there made it seem like you thought the day was as special as we did!"
"I had soooooooooo many compliments about how great you were! We even had people from the wedding next door telling us how we all looked like we were having so much fun compared to their dull reception. Some of them even came over to dance with us!"
"The dance floor was packed all evening – great job on playing a mix of songs to keep us all out there. Also, you were very approachable that evening with requests or change of plans. Thanks!"